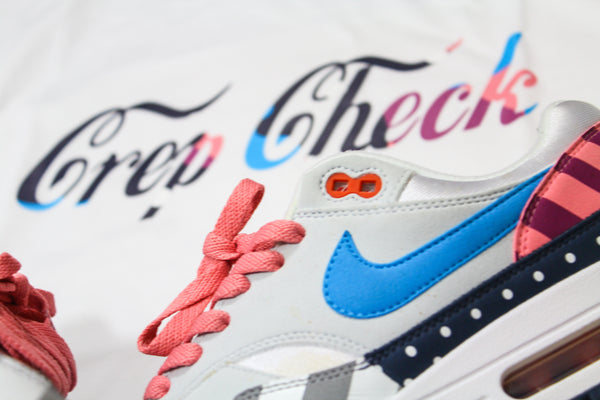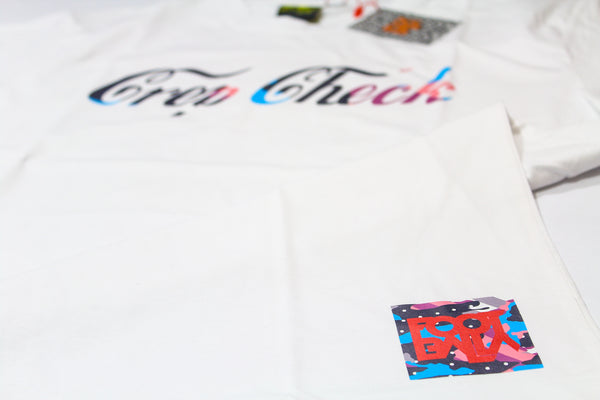 Foot-Balla
Foot-Balla Parra inspired print tee " Crep Check "
PRE ORDER ONLY - DESPATCH/SHIPPING CAN TAKE UP TO 5 WORKING DAYS FOR THIS STYLE.
WE GIVE THIS TIME FRAME BUT SOMETIMES SHIPPING WILL BE SOONER. ❤️ 
Size Details - XXS* 32/34" XS 34/36" S 36/38" M 38/40" L 41/43" XL 43/45" 2XL 46/47" 3XL† 48/50"

We bring you Up to date with another special 1.
Parra the infamous Dutch artist has finally bless the new shape NIKE Air Max 1 with another banger of a colourway and what an entry it was, companied with a friends and family version of the same shoe but with a nice twist!!!! An Air Max 1 without the swoosh on the side💥 an epic drop for many heads and drove everyone wild. Shout out to the NIKE FAMILY ❤️❤️❤️ What a shoe 
Parra Collaboration with Nike on the Air Max 1 and Spiridons, come signed as a treat to the community who witnessed the original 2005 Amsterdam friends and family pairs numbered at only 24 pairs was near impossible to find with the growing culture of heads that wanted to acquire them for their own collection, this pair was the answer to the dreams we all had.
Hands down the best ones to drop of 2018.  
Due to Demand we decided to drop some new style tees to go with the Kicks
We created this tee to wear/match up with the Nike air max 1 X Parra sneakers. 
White Base Vegan Tee, on chest graphics with A thirsty looking script which features the same colours as the Sneaker blue, polka dots, stripes,  red Foot-Balla Logo located at the front waist band with camo  graphic background. 
We about to turn up the fire 🔥
We consider this to be a perfect match for the Kicks and for those who love the mix this is for you ❤️ We feature a men's and women's cut tees for this drop 
TEE SHIRT INFORMATION: 
Fabric
100% Organic ringspun combed cotton (vegan friendly 

Weight
180gsm
Flawless Quality second to none 
very limited so you can ensure not everyone you see will have them. Exclusive wear for men and Women alike.
Free Sticker with every purchase