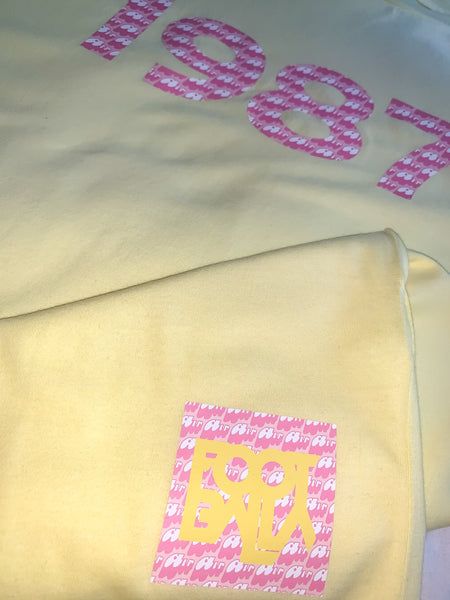 Foot-Balla
Foot-Balla "Strawberry" Powerwall Sample Tee
Immediate DESPATCH/SHIPPING.
Nike Air Max 1 Powerwall Strawberries 🍓 hook up tee for men and women. 
In honour of that drop we decided to drop some sample tees to go with the Kicks
We created this tee to wear/match up with the Nike air max 1 - Powerwall strawberries sneakers. 
The original pink powerwall pair caused a worldwide hype when released and sold out on the days of release.
Proper crazy, but for sure it was all about the colourway. 
Description:
Sample: 
1) Lemon 🍋 Base Tee, on chest graphics with the 1987 in pink with the Air graphic minus the swoosh in plush special order vinyl print,  Foot-Balla Logo located at the front waist band in yellow to match the heels of the sneaker. 
we consider this to be a near perfect match for the Kicks and for those who love the mix, this is for you ❤️ 
100% Ultra cotton fabric Pre shrunk for consistent fit, Quality stitching throughout. Seamless collar, Double-needle stitched. taped shoulder to shoulder.
150GSM light weight tee 
Flawless Quality second to none 
Free Sticker with every purchase